Washington D.C., US
美国华盛顿特区
The Trumps greet the Macrons as they arrive for a state dinner at the White House
Photograph: Saul Loeb/AFP/Getty Images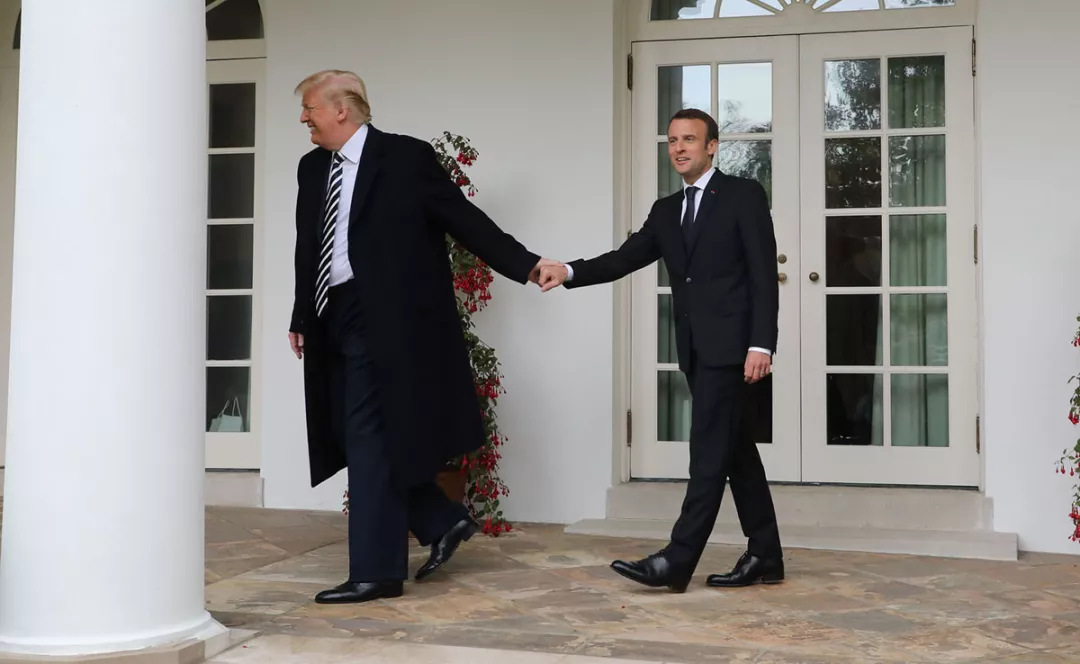 Washington D.C., US
美国华盛顿特区
French President Emmanuel Macron (right) and U.S. President Donald Trump walk to the Oval Office prior to a meeting at the White House
Ludovic Marin / AFP / Getty
Washington D.C., US
美国华盛顿特区
President Trump greets German chancellor Angela Merkel in the White House
Photograph: Kevin Lamarque/Reuters
Virginia, US
美国弗吉尼亚

Melania and Donald Trump pose with Emmanuel and Brigitte Macron as the presidential couples prepare to have their picture taken on a visit to Mount Vernon, the estate of George Washington
Photograph: Jonathan Ernst/Reuters
London, England
英格兰伦敦

Prince Harry and Meghan Markle attend the dawn service at Wellington Arch to commemorate Anzac Day
Photograph: Toby Melville/Reuters
London, England
英格兰伦敦
Catherine, the Duchess of Cambridge, and Prince William leave the Lindo Wing of St Mary's Hospital with their new baby boy, Prince Louis Arthur Charles
Hannah Mckay / Reuters
Panmunjom
板门店
South Korean president Moon Jae-in and North Korean leader Kim Jong-un shake hands at the truce village of Panmunjom inside the demilitarised zone separating North and South Korea. The leaders of North and South Korea promised after a landmark summit to bring 'lasting peace' to the peninsula with a commitment to denuclearisation and to ending decades of hostilities.
Photograph: Korea Summit Press Pool/Reuters
Paju, South Korea
韩国坡州
North Korean leader Kim Jong Un, left, and South Korean President Moon Jae-in briefly cross the military demarcation line at the border village of Panmunjom in the Demilitarized Zone on April 27, 2018, as they met to begin the third ever inter-Korean summit talks. Their discussions will be expected to focus on whether the North can be persuaded to give up its nuclear bombs.

Korea Summit Press Pool via AP
Paju, South Korea
韩国坡州
South Korea's president, Moon Jae-In (left), speaks to the North Korean leader, Kim Jong-un, in the border village of Panmunjom. The event marks the first time a North Korean leader has crossed the border into South Korea since the end of hostilities during the Korean war
Photograph: Korea Summit Press/EPA
DMZ, North and South Korea
三八线
North and South Korean soldiers stand guard before the military demarcation line on each side of the truce village of Panmunjom
Photograph: -/AFP/Getty Images
Panmunjom
板门店

Security personnel run alongside a vehicle carrying North Korean leader Kim Jong-un in the demilitarised zone separating the two Koreas. Kim Jong-un and Moon Jae-in, the South Korean president, issued a joint statement that was short on detail but offered cause for optimism as the world looks ahead to a summit between Kim and Donald Trump.
Photograph: Korea Summit Press Pool/Reuters
Seoul, South Korea
韩国首尔
A South Korean weeps watching Kim Jung-Un's crossing the Military Demarcation Line for the inter-Korean summit in live news streams through television broadcast at the Seoul Railway station
Photograph: Woohae Cho / Getty
Chengdu, China
中国成都

A giant mosquito with a wing span of 11.15 centimetres is displayed at the Insect Museum of West China
Photograph: Xinhua/Barcroft Images
Hunan, China
中国湖南
People climb on a cliff face past a 100-meter-high convenience store in Pingjiang in China's central Hunan province
Photograph: AFP / Getty
Qingdao, China
中国青岛

Fog drifts around skyscrapers on the city's waterfront
Photograph: Lu Hui/AP
Zhejiang, China
中国浙江

Giant net fishing at Thousand Island lake in Chunan
Photograph: Top Photo Corporation/Rex/Shutterstock
Taiyuan, China
中国太原

Women take part in a yoga session at a shopping centre
Photograph: Reuters
Colombo, Sri Lanka
斯里兰卡科伦坡
Statues of Buddha are cleaned at a factory before being sent to the paint room. They will be painted before being put on sale for Vesak Day, which commemorates the guru's birth, enlightenment and death
Photograph: Dinuka Liyanawatte/Reuters
Singapore
新加坡

Inuka the polar bear undergoes a final checkup before being put down after a rapid decline in health
Photograph: Wildlife Reserves Singapore/AFP/Getty Images
Jakarta, Indonesia
印尼雅加达

A woman who changes large banknotes into smaller tender sits beside a stack of Indonesian currency
Photograph: Willy Kurniawan/Reuters
West Sumatra, Indonesia
印尼西苏门答腊

Firefighters in Padang tackle an enormous blaze at a warehouse containing rubber and palm shells
Photograph: Andri Mardiansyah/Pacific Press/Barcroft
Kota Bharu, Malaysia
马来西亚哥打巴鲁

A vendor tends to her stall
Photograph: Reuters
Maungdaw, Myanmar
缅甸梦都

Rohingya refugees gather behind a barbed-wire fence in a temporary settlement in a 'no man's land' border zone between Myanmar and Bangladesh. Myanmar and Bangladesh signed a repatriation deal for refugees to return in January but so far only one family has returned.
Photograph: Ye Aung Thu/AFP/Getty Images
Ninh Binh province, Vietnam
越南宁平省

Veterinarians check May, a female moon bear, during her rescue from a bear farm for bile trading to an animal welfare project by Four Paws.
Photograph: KHAM/Reuters
Kolkata, India
印度加尔各答

Labourers struggle to carry a basket of produce on a hot afternoon at a vegetable market
Photograph: Piyal Adhikary/EPA
Kolkata, India
印度加尔各答
Passengers on an improvised motor-rickshaw drive past a burning rubbish dump
Photograph: Rupak de Chowdhuri/Reuters
Kolkata, India
印度加尔各答
Boys dive into the Ganges on a humid day
Photograph: Rupak de Chowdhuri/Reuters
Afrin, Syria
叙利亚阿夫林

A car drives past a damaged building in the northern Syrian enclave of Afrin that Ankara-backed forces have captured from Kurdish fighters in recent months. Tens of thousands of people were displaced by the Turkish-led assault on the Afrin region, whose small towns and villages were home to mostly Syrian Kurds.
Photograph: Sameer Al-Doumy/AFP/Getty Images
Afrin, Syria
叙利亚阿夫林
A man walks past the statue of Kawa, the blacksmith who was a central figure in a Kurdish legend about the new year celebration of Noruz, after Ankara-backed forces destroyed it. Tens of thousands of people were displaced by the Turkish-led assault on the Afrin region, whose small towns and villages were home to mostly Syrian Kurds.
Photograph: Sameer Al-Doumy/AFP/Getty Images
Kabul, Afghanistan
阿富汗喀布尔

A police officer stands outside a voter registration centre that was attacked by a suicide bomber
Photograph: Rahmat Gul/AP
Gaza Strip
加沙

A Palestinian drives a horse-drawn cart during clashes with Israeli security forces near the eastern border of the Gaza Strip on the fifth consecutive Friday of mass demonstrations and clashes along the border between Gaza and Israel.
Photograph: Mohammed Abed/AFP/Getty Images
Gaza Strip
加沙
Teargas canisters are fired by Israeli troops at Palestinian demonstrators during clashes at a protest demanding the right to return to their homeland on the border between Gaza and Israel.
Photograph: Ibraheem Abu Mustafa/Reuters
Gaza Strip
加沙
Students watch the funeral of Palestinian journalist Ahmed Abu Hussein, 24, who died of wounds he sustained while covering a protest on the Gaza-Israel border
Photograph: Mohammed Salem/Reuters
Gaza Strip
加沙
Relatives of Tahrir Wahada mourn during his funeral. Wahada, who was Palestinian, was shot in the head during a clash with Israeli forces
Photograph: Said Khatib/AFP/Getty Images
Gaza Strip
加沙
Alaa al-Daly, a Palestinian cyclist, lost his leg after being shot by Israeli soldiers during demonstrations at the border. The bicycle was a gift from the Turkish president, Recep Tayyip Erdoğan, in 2016
Photograph: Ali Jadallah/Anadolu/Getty Images
Erzurum, Turkey
土耳其埃尔祖鲁姆

Refugees arrive in Turkey where the government has deported at least 7,000 Afghan refugees back to Kabul recently. Nearly 20,000 refugees fleeing Afghanistan, Pakistan and Bangladesh have arrived in the country over the past three months.
Photograph: Erdem Sahin/EPA
Sivas, Turkey
土耳其锡伐斯

Garra rufa, also known as doctor fish, swim around the face of a man as he relaxes in a hot spa pool
Photograph: Umit Bektas/Reuters
Cullinan, South Africa
南非卡利南

An aerial view of a Nelson Mandela portrait, made from crochet blankets, is unveiled at Zonderwater prison
Photograph: John Hogg/AFP/Getty Images
London, England
英国伦敦

Members of the Honourable Artillery Company fire a 62-gun salute from the Tower of London to welcome the birth of Prince William and Catherine, the Duchess of Cambridge's third child.
Photograph: Hannah Mckay/Reuters
London, England
英国伦敦
Protesters with masks depicting Facebook's chief executive, Mark Zuckerberg, and an angry emoji demonstrate outside Portcullis House
Photograph: Facundo Arrizabalaga/EPA
London, England
英国伦敦
Kenya's Vivian Cheruiyot crosses the finish line to win the women's race in the London Marathon.
Photograph: Kirsty Wigglesworth/AP
Dudley, England
英国达德利

Theresa May speaks to a worker while visiting to Boss Design during a local election campaign
Photograph: Darren Staples/Reuters
Liverpool, England
英国利物浦

Fans sit on top of a police van outside Anfield stadium before the Champions League semi-final between Liverpool and Roma.
Photograph: Peter Byrne/PA
Dundrennan, Scotland
苏格兰敦德里南
Royal Marines come ashore as they take part in the bi-annual Exercise Joint Warrior. About 11,600 personnel from 17 countries are taking part in Europe's largest military exercise
Photograph: Jeff J Mitchell/Getty Images
Portadown, Northern Ireland
北爱尔兰波塔当

Competitors take part in the annual mud madness event at Foymore Lodge.
Photograph: Charles McQuillan/Getty Images
Dublin, Ireland
爱尔兰都柏林

The heart of Laurence O'Toole at Christ Church Cathedral in Dublin. The 800 year old relic had been missing for six years and was recovered undamaged.
Photograph: Tom Honan/PA
Dublin, Ireland
爱尔兰都柏林
Children wait to place Easter lilies, symbols of the 1916 Easter Rising, at Arbour Hill cemetery
Photograph: Brian Lawless/PA
Motril, Spain
西班牙莫特里尔

Sub-Saharan migrants on a rescue boat
Photograph: Carlos Gil/REX/Shutterstock
Alcoy, Spain
西班牙阿尔克伊

People take part in the Moors and Christians festival, which dates back to 1672
Photograph: Morell/EPA
Vatican
梵蒂冈
Newly ordained priests lie on the floor as Pope Francis leads a mass in Saint Peter's Basilica
Tony Gentile / Reuters
Nice, France
法国尼斯

The Hermione, a replica of the French frigate that transported General La Fayette to America in 1780, arrives at the riviera port
Photograph: Valery Hache/AFP/Getty Images
Bordeaux, France
法国波尔多
A worker drives a vineyard fumigation tractor to spread an initial phytosanitary treatment against mildew and powdery mildew, two of the main diseases that threaten vines and develop notably due to rain
Photograph: Georges Gobet / AFP / Getty
Groningen, the Netherlands
荷兰格罗宁根

Queen Maxima poses for a selfie with a fan as she attends the traditional King's Day celebrations in the northern city, marking the 51st birthday of King Willem-Alexander
Photograph: Robin Utrecht/EPA
Brussels, Belgium
比利时布鲁塞尔

Activists demonstrate outside the European commission calling on member states to protect bees by voting for a full ban on bee-killing pesticides. A partial ban of neonicotinoids was introduced five years ago
Photograph: Emmanuel Dunand/AFP/Getty Images
Hanover, Germany
德国汉诺威

From right: the chancellor, Angela Merkel, the Mexican president, Enrique Peña Nieto, and his wife, Angelica Rivera, greet a robot as they visit the IBG Automation stand at Hanover Fair
Photograph: Tobias Schwarz/AFP/Getty Images
Norderney, Germany
德国诺尔德尔奈

A male pheasant walks along the island's dunes during mating season
Photograph: Picture-Alliance/Barcroft Images
Salgótarján, Hungary
匈牙利

Meteors burn up as they enter the earth's atmosphere
Photograph: Peter Komka/EPA
Prague, Czech Republic
捷克布拉格

People dress as US soldiers as they take part in the Convoy of Liberty, commemorating the 73rd anniversary of the liberation of the western part of the country from Nazi rule
Photograph: David W Cerny/Reuters
Yerevan, Armenia
亚美尼亚耶烈万

A supporter holds up the national flag during a rally to support the opposition leader, Nikol Pashinyan
Photograph: Gleb Garanich/Reuters
Minsk, Ukraine
乌克兰

Honour guard soldiers lay flowers at the Chernobyl victims' memorial in Minsk. It is 32 years since the world's worst nuclear accident at Chernobyl killed thousands and forced a global rethink about the wisdom of relying on atomic power.
Photograph: Sergei Gapon/AFP/Getty Images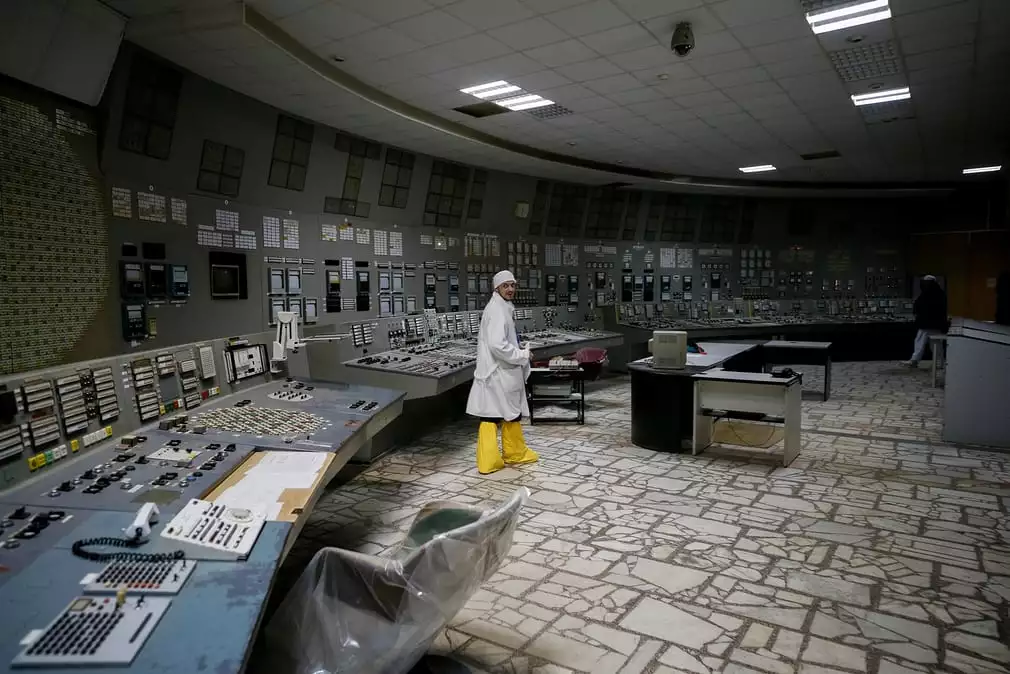 Chernobyl, Ukraine
乌克兰切尔诺贝利

A worker at the control centre of the third reactor at the Chernobyl nuclear power plant.
Photograph: Gleb Garanich/Reuters
Murmansk, Russia
俄罗斯摩尔曼斯克

Crew on the K-18 Karelia nuclear-powered ballistic missile submarine during training in the Barents Sea
Photograph: Lev Fedoseyev/TASS via Getty Images
Washington, DC, US
美国华盛顿特区

President Donald Trump meets with children in the Oval Office on 'Take Our Daughters And Sons To Work' day at the White House.
Photograph: Erik S. Lesser/EPA
Carlsbad, US
美国卡尔斯巴德

A worker picks ranunculus at the Flower Fields, in the hills of North San Diego county, California
Photograph: Mike Blake/Reuters
Norristown, Pennsylvania, US
美国宾夕法尼亚诺里斯敦

Bill Cosby, center, leaves the the Montgomery County Courthouse after being convicted of drugging and molesting a woman.
Photograph: Matt Slocum/AP
Norristown, Pennsylvania, US
美国宾夕法尼亚诺里斯敦

Bill Cosby accusers Caroline Heldman, Lili Bernard and Victoria Valentino react after the guilty on all counts verdict was delivered in the sexual assault retrial at the Montgomery county courthouse. In a verdict that seemed destined to stand as a major milestone in the #MeToo movement against sexual assault, the once beloved actor and comedian Bill Cosby was convicted by a Pennsylvania jury on Thursday of drugging and molesting an acquaintance in 2004.
Photograph: Mark Makela/Getty Images
Draketown, Georgia
美国佐治亚德雷克顿

Members of the National Socialist Movement, one of the largest neo-Nazi groups in the US, watch a swastika burn after a rally in Draketown. Community members had opposed the rally in Newnan and came out to embrace racial unity in the small Georgia town.
Photograph: Spencer Platt/Getty Images
Los Angeles, US
美国洛杉矶

Benedict Cumberbatch (left) and Tom Hiddleston arrive for the premiere of Avengers: Infinity War
Photograph: Michael Buckner/Variety/Rex/Shutterstock
Brasilia, Brazil
巴西巴西利亚
An indigenous Brazilian is photographed at the terra livre camp during a demonstration in defence of the local indigenous population.
Photograph: Adriano Machado/Reuters
Brasilia, Brazil
巴西巴西利亚

People protest against the Indigenous policies of Brazilian President Michel Temer in front of the national congress.
Photograph: Adriano Machado/Reuters
Hermosillo, Mexico
墨西哥埃莫西约
Central American migrants ride on a northbound train as they continue their journey toward the US border
Photograph: Luis Gutierrez/AP
Hermosillo, Mexico
墨西哥埃莫西约

Honduran immigrants rest at a shelter whilst on a journey to the border between the US and Mexico. Some 600 immigrants, mostly Central Americans who began travelling almost a month ago, are within days of reaching the border.
Photograph: John Moore/Getty Images
Catia La Mar, Venezuela
委内瑞拉卡地亚拉马

Locals are handed bowls of soup by people rallying for Venezuelan opposition presidential candidate, Javier Bertucci. Campaigning has started in the run-up to the election in May, though international organisations and communities, including the EU and the US, have expressed concern and rejected the electoral process
Photograph: Luis Robayo/AFP/Getty Images
Managua, Nicaragua
尼加拉瓜马那瓜

Peaceful protests calling for the resignation of President Daniel Ortega and his wife and the vice-president, Rosario Murillo, who are accused of repression and violation of human rights
Photograph: Jorge Torres/EPA
San José, Costa Rica
哥斯达黎加圣何塞

Nicaraguan expatriates show solidarity with protesters in their country holding demonstrations against the proposed changes to social security as proposed by President Daniel Ortega
Photograph: Jeffrey Arguedas/EPA